Cannifer Ltd: About Us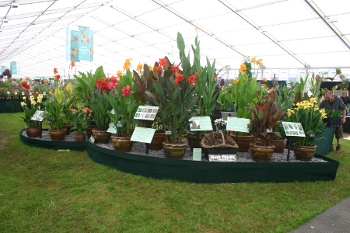 Our stand at Hampton Court Palace Flower Show 2016, Gold Medal
The company name is Cannifer Ltd
Trading as: Cannifer, Hart Canna, Lincluden Nursery
The directors of Cannifer Ltd are Keith and Christine Hayward.

The company name is derived from "canna" and "conifer". The nursery presently sells cannas, but when we purchased it it was a conifer nursery, which we carried on selling for a few years.
Our company website: www.cannifer.co.uk
We have various business activities, mainly connected with horticulture.
We operate from a nursery:
Lincluden Nursery
Shaftsbury Road
Bisley Green
Bisley
Surrey GU24 9EN
To find the nursery, we are the 2nd turn on the right as you enter Shaftesbury Road.
Watch for the sign "Lincluden Nursery" on the corner.
At the nursery we sell cannas and giant plastic planters.
Our online catalogues are:
www.hartcanna.com Planters and plant pots.
www.hartcanna.co.uk Cannas.
Visitors are welcome, by arrangement, any day including weekends.
Please phone us. 01252-514421 0776-295-0000 0771-867-9245
At the nursery we have the following employees and regular helpers:
Nick, Dave, Celeste, Janis, David.
We also hold the Plant Heritage National Collection of Cannas. See:
www.canna-collection.org.uk
Plant Heritage website www.nccpg.com
Visitors are welcome to see our collection. Just phone or email to agree a date and time.
For full information on canna cultivation, botany, disease etc, see our online canna catalogue.
Canna catalogue
Each year we hold a trial of canna cultivars at our nursery, in which we show some 150 varieties and species of cannas.
This will be open to visitors during the August Bank Holiday, 24th to 27th August, 10.00am to 4.00pm.
For futher details see our Canna Trial website
Our business and postal address is
25/27 Guildford Road West
Farnborough, Hants. GU14 6PS
Our main E-mail address:
us@hartcanna.com
Our Phone numbers:
01252-514421
0776-295-0000
0771-867-9245
We also present lectures on horticultural themes for clubs and gardening societies:
"Glorious Cannas" All about cannas: history, botany, types, cultivation, etc.
"Taking a Stand" Behind the scenes at the Hampton Court Palace Flower Show (we have exhibited at the Hampton Court Flower Show annually since 2003.
"Hunting for wild cannas in Argentina" A slideshow of our visits to Argentina and Bolivia in search of canna species.
"Our World Of Cannas" Covering our various canna interests: Nursery, National Collection, Exhibiting, Visits to South America etc.
"Entertainment on a horticultural theme" Songs, poems, readings, general chit chat. Suitable for club annual dinners, Xmas parties etc.
We love to do it, so please don't hesitate to enquire (phone or email). We will travel any distance. The furthest so far is Ireland. We make a charge for presenting a lecture or an entertainment.
---
Our other interests not connected with horticulture:
Singing
www.poemsong.co.uk Christine's entertainment business.
She will present a programme of one hour, or as required. Singing, poems, readings, chit-chat, stories.
Topics include:
The History of the Music Hall
Victorian Parlour Songs
Memories of the 1950's
Christmas past & present
www.singing-masterclass.co.uk Christine's masterclasses.
www.hartmvc.org.uk Keith only.
www.carillon.singers.co.uk Christine and Keith.
Atheism
Keith & Christine are members of the Farnham Humanist group, who are non-believers who seek to create a more open and just society. They orgainise meetings, lectures, debates, outings, social events. They have members who are school, hospital, prison, and hospice visitors. They have qualified celebrants for conducting weddings, funerals and baby namings.
Keith & Christine offer the following Humanist lectures:
"Faith, belief and certainty". You can believe what you are told to believe, or you can think for yourself!
"Language, the big idea that separates us from other animals". The history of animal language for the past 300 million years.
Links:
http://farnham.humanist.org.uk Farnham Humanist Group
https://humanism.org.uk British Humanist Association
http://understandinghumanism.org.uk/ Understanding Humanism
http://www.secularism.org.uk National Secular Society
Family history
Website on Keith's illustrious forebear Joseph Hayward online shortly.
Lecture and slidesow: "The life and family of Joseph Hayward 1819 - 1901"
Computing
We have 2 pcs and 2 laptops.
All use the Linux Operating System
https://en.wikipedia.org/wiki/Linux/
Are you as fed up as we were with Microsoft Windows? Solution: change to Linux. We changed in 2006.
Linux is solid and reliable, is immensely powerful, doesn't get viruses, has a vast software store, and it is all free!
Phone Keith if you'd like to know more.
In particular, we use the Ubuntu distribution of Linux
http://www.ubuntu.com/
All our computers are networked locally. We use Network File System (NFS)
Our Internet Service Provider is Virginmedia
We have a 1and1 Virtual Cloud Server to host our websites.
We do our own website design.
We like to keep our websites simple. They may lack bells and whistles, but they do the job and are quick to load.
At present we have the following active websites (not all are up to date):
www.cannifer.co.uk
www.hartcanna.com
www.hartcanna.co.uk
www.canna-virus.org.uk
www.canna-collection.org.uk
www.canna-trial-international.com
www.poemsong.co.uk
www.singing-masterclass.co.uk
www.kh-upload.org.uk
www.atheism-yes.org.uk (Not yet operational)
---